History
It is true that NSH is a hospital with a unique new concept of patient focused care, however, it prides itself in having the most experienced and renowned consultants in Bahrain in their respective fields. Furthermore, NSH has gone through great pains to ensure procuring the most talented and experienced overseas specialists for your treatment when the experience is lacking in Bahrain. At NSH financial gain is of little or no significance. As a matter of fact, the driving force behind the establishment of this hospital was that the leading doctors in Bahrain felt that they should be able to continue practicing their skills in a totally harmonious atmosphere in which enhanced patient care can be atained without having to worry about financial constraints. Our profitability is measured by patient satisfaction and not by monetary gain.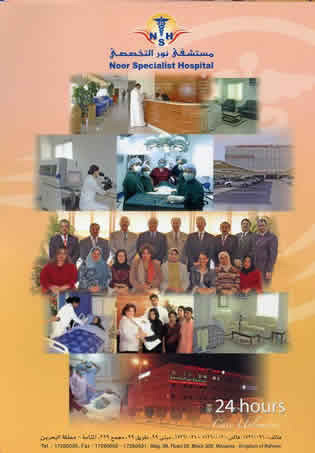 The quintessential element in any relationship is trust and it is here where NSH strives hard to make a difference. We are committed in establishing a standard of total transparency in its health care provision. We wish to elevate the patient to the status of a fully active participant and decision maker during the health care provision rather than the passive receipient of the process. This strong co-operation between patients and their doctors & nurses can only lead to better outcomes.
At NSH we also believe that a healing environment is essential to compliment our outstanding medical care and this is why we pay strict attention to providing you with a home-like setting when staying in our rooms. This feelin is further enhanced by the family atmosphere our dedicated and friendly staffs create for you and your guests.
It is ture that nobody wants to be sick; however, when you are in need of medical attention you will no doubt choose NSH because our CARE is UNLIMITED and our experience is UNPARALLELED.
About Hospital
Noor Specialist Hospital ( NSH ) is a private hospital located in the heart of Manama city, Kingdom of Bahrain, with a strength of 41 beds varying from VIP, single, double and 3 bedded rooms. By offering various medical, surgical, gynecological, plastic, laser & laproscopic procedures, as well as the services of its 24 hr clinic & physiotherapy department & many more. NSH promises its valued visitors 'care unlimited'.

Our Facilities
A mordern, Fully Equipped Hospital
Luxury Delivery Suites
Endoscopy GI Unit
4D & COLOR Doppler Ultrasound
Laboratory, X-Ray, CT Scan
Private room and VIP suits
State of the Art Operating Rooms
Cardiac Lab
Comprehensive Dental Care
Physiotherapy
Laser Centre